Why "Private Tours"?
I offer a very special service: private tours! Why? In these times of particular health risk, it is important to be surrounded by people you know like family and friends. This is guaranteed during the tours with me!
No strangers will be part of your tour. You book me all by yourself for your family and friends. This is how you can best defend yourself against any risk. Of course, my prices are all-inclusive prices for you and your group (up to six people).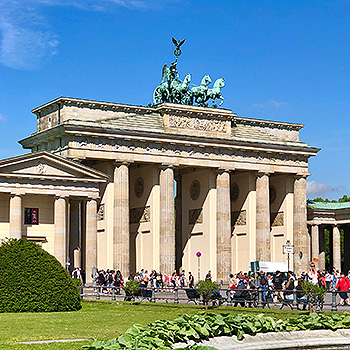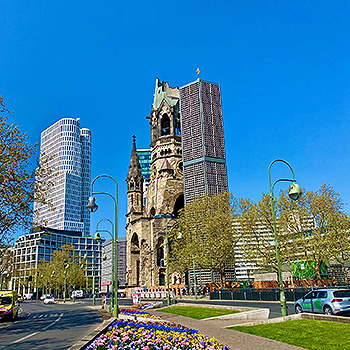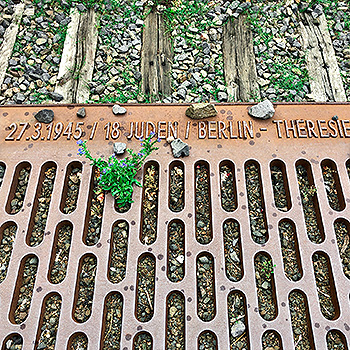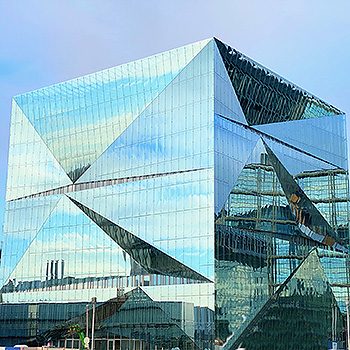 The Tours
Berlin: City development, Prussian history, consequences of World War I and the Weimar Republic, Hitler's Germany and World War II, occupation and Cold War, fall of the Wall, reunification.
Potsdam: summer residence of the Prussian kings, palaces and gardens, division of Germany, reconstruction after reunification
Sachsenhausen: structure of the former concentration camp during Nazi Germany, Soviet penal camp after 1945
This is just a small outline, of course I show highlights on my tours as well as architecture (historical and modern), social city life and the multicultural diversity of Berlin, cultural venues such as theaters, opera houses and concert halls, palaces and gardens, squares and museums.
What to expect
I have been a professional city guide since 1985 (I started in West Berlin) - whether in an exclusive limousine, in a van, on a tour bus, or by walking.
With this wealth of experience, I would like to bring you closer to the city of my heart, Berlin, while immersing yourself in the details at any time, based entirely on your needs.
My Jewish tours include memorial sites, memorials and historically significant sites such as residential areas, assembly points, deportation stations. Everything brought into the historical context and provided with a lot of background knowledge.
I can tell you from my own experience what it was like in the Cold War back then and how we West Berliners lived with the wall - I have seen everything. It was a very eventful and disturbing time.
I have experienced the change and the everyday changes associated with it on site and can tell from my own experience how Berlin felt in those turbulent, exciting and incomparable days after the fall of the wall.
What difficulties the Berliners had to face in these times and how Berlin has changed.
In my long career I have headed heads of state, politicians, actors and film producers, CEOs of large companies and individual travelers.
90 percent of my customers come on recommendation and appreciate my sensitivity to adjust to their individual wishes and requirements.
Time frame and recommendations
A guided tour with me takes at least 3 hours. However, I recommend a day of 6 hours to get a more comprehensive overview of Berlin.
For Potsdam, I recommend planning 4 to 8 hours, depending on your interest and the desired scope.
Sachsenhausen, which is about 1 hour outside of Berlin, can also be experienced in 4 to 8 hours, including arrival and return.
And don't worry - tours with me always include exits, which of course depend on your needs, the weather, traffic and - last but not least - the time booked and available. With me a tour will always be entertaining and entertaining! Time flies, my customers confirm this again and again after a look at the clock ...
On request, I can also take you through various museums or accompany you on shopping tours. Just contact me and we will be happy to discuss details. I lead in German, English and Spanish.
I am a member of the Berlin and of the German National Guide Association. I am licensed for guiding you inside several palaces and many different museums.
Please request prices for Tours with a guide, van and driver, for Walking Tours or for Guided Tours with Aaron as your driver-guide. Please don't hesitate to request also Bus-Tours for bigger groups!
A minimum of 3 hours applies to all tours and combinations are possible, but I highly recommend 6 - 8 hours in the Van. Here you see an example of a walking tour versus a van-based tour for 6 hours. Much more can be covered using the van and driver.

Audio-system
Because I use an audio-system during my tours for up to 6 people, social-distancing is easy without any loss of hearing-quality - you can listen to my explanations even from a distance of 100 meters! I use a german system developed by Meder.
Please contact me via eMail info@private-tour-berlin.de
You also find me on Facebook!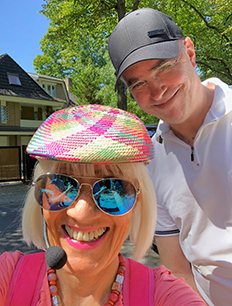 Berlin, February 9, 2023